South Korean ship sinking: Was North Korea involved?
The cause of the South Korean ship sinking is unclear. But North Korea has taunted the South in the past, and the two navies exchanged gunfire last year.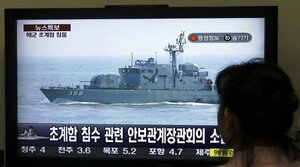 Lee Jin-man/AP
The sinking of a South Korean naval vessel Friday is raising fears that North Korea is once again rattling its sabers, though there is so far no evidence that Pyongyang had a role in the incident.
The South Korean ship, navigating in disputed waters in the Yellow Sea, was sunk Friday, and perhaps dozens of sailors were killed. But the cause of the sinking is unclear at time of writing.
Sketchy reports out of South Korea that a North Korean torpedo was used against the vessel were enough to raise the specter that North Korea is escalating tensions between the two countries. North Korea is seen as increasingly desperate – wanting to demonstrate its power to an international community hoping that sanctions will discourage Pyongyang from building nuclear missiles.
But there is scant evidence that North Korea in fact attacked the vessel.
Reuters news agency reported that a defense ministry official said the object the distressed vessel had fired on before it sank was actually a flock of birds. And Reuters quoted Kim Eun-hye at Blue House, the presidential residence in Seoul, as saying: "It is premature to discuss the cause of this sinking. It is not clear whether North Korea was involved."
---