For Obama, no buddies abroad
Other U.S. presidents have bonded with foreign leaders, but Obama so far has no such ties. Does that matter?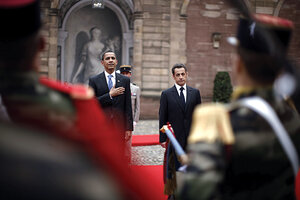 Jason Reed/Reuters
When French President Nicolas Sarkozy and his wife, Carla Bruni, sit down for dinner with the Obamas in the White House family dining room March 30, it will be a rare occasion for Barack Obama: a private, personal, perhaps even chatty evening with another world leader.
Fourteen months into the Obama presidency, one striking feature of an American president who took office to a swooning world is the absence of any strong personal ties – or even a go-to working relationship – with any other world leader. Where Ronnie had Maggie, and Bill and even George W. had Tony, Mr. Obama has no one leader. Instead, the former law professor has what seems to be a preference for big-themed foreign speeches (think Cairo; Prague, Czech Republic; Moscow; Accra, Ghana) and policy gatherings (his UN nuclear summit, the Pittsburgh Group of 20 economic summit, a White House nuclear nonproliferation summit in May) bereft of the warm and fuzzy.
---