New chill enters US-Cuba relations after Obama's brief thaw
President Obama has made several goodwill gestures toward Havana, giving US businesses the hope that Cuba relations could improve. But the Castro regime appears unwilling to compromise.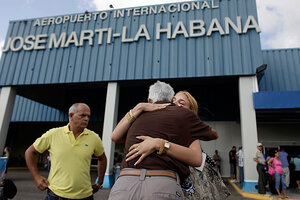 Javier Galeano/AP/File
US business is setting its sights on Cuba, but the interest comes just as President Obama is stepping back from his policy of engagement with the Castro regime.
With more Cuban-Americans traveling to the island country as a result of loosened US travel restrictions aimed at improving Cuba relations, Cuban oil, agriculture, and infrastructure are beckoning as promising markets for American investors and farmers.
But the opening of Cuba's totalitarian political system – the sine qua non of increased American ties – is nowhere in sight, Cuba economic experts say, meaning the perennial hopes of US business are likely to be dashed once again.
"The Cubans are being very clear that they will accept absolutely no conditions in terms of normalization with the United States – none," says Anna Szterenfeld, Latin America editor of the Economist Intelligence Unit.
Mr. Obama seems to have come to the same conclusion. Last week he released a statement suggesting disappointment in the Cuban regime's response to the gestures he made last year as part of what he envisioned as a mutual warming.
---