US-China relations warm as Obama and Hu Jintao meet
Chinese President Hu Jintao and President Obama met Monday in the margins of the two-day summit on nuclear security. US-China relations have endured several months of tense disagreements.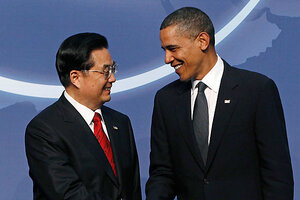 Jim Young/Reuters
After passing through a cold winter, US-China relations entered springtime with President Obama greeting Chinese President Hu Jintao in Washington Monday.
They met in the margins of Mr. Obama's two-day summit on nuclear security. The two presidents smiled broadly – most notably for a huge traveling Chinese press corps – before a 90-minute conversation in which Obama pressed for Chinese cooperation on Iran sanctions. On the topic of economic differences, Mr. Hu emphasized his preference for "consultations," as one Chinese official said, over mutual public sniping.
The White House characterized the discussion on Iran as a further sign of a growing international consensus on punishing the Iranian state for its uranium-enrichment program. Jeff Bader, an Obama adviser on security issues, summarized: "They're prepared to work with us."
The two countries have come out of several months in which it appeared that disagreements over everything from Beijing's relations with Tehran to Obama's meeting with the Dalai Lama would push relations into a deep freeze. But both countries pulled back after each decided that bilateral relations were too important.
---