Nuclear summit: How much 'loose nukes' material is out there?
The Obama nuclear summit is focusing less on nuclear weapons and more on more poorly guarded nuclear materials that could be used to build nukes.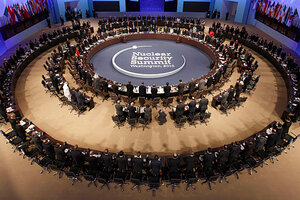 Pablo Martinez Monsivais/AP
Why is President Obama's nuclear summit focused on controlling fissile materials? It's simple: Obtaining enough plutonium or highly enriched uranium is the most important step toward getting a nuclear weapon.
It's possible that Al Qaeda or some other terrorist group could steal or buy ready-made nukes, of course. But the world's warheads are relatively secure and accounted for, according to Robert Gallucci, a former US ambassador-at-large for nonproliferation issues.
The stockpiles of fissile materials sprinkled around the globe are another matter.
"I think the chances of Al Qaeda acquiring fissile material and making its own improvised nuclear device are greater than the chances it will get an already-fabricated weapon and detonate that," said Mr. Galluci, now president of the MacArthur Foundation, in a Monday speech.
Agreements to tighten controls
Mr. Obama's summit already has produced some agreements intended to help corral the world's "loose nuke" problem. On Monday, Ukraine, Canada, and Malaysia all agreed to either reduce or tighten controls on their stores of highly enriched uranium. On Tuesday, Mexico made a similar commitment.
---