Sinking South Korea's ship wouldn't be North Korea's first provocative act
Since South Korea's ship the Cheonan went down, Seoul has been careful not to jump to conclusions about North Korean involvement. But the list of provocative acts by the north is long.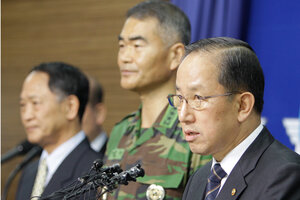 Lee Jin-man/AP
Did North Korea have a role in the sinking of the South Korean patrol boat Cheonan last month? South Korea's government is inching closer toward making such a charge.
Seoul is being careful to not appear as if it is jumping to conclusions. But on Friday the leader of an official investigation into the incident said the vessel most likely was sunk by an external explosion, as opposed to the explosion of its own ammunition or fuel.
The Cheonan blew up and split in two on March 26 during a routine mission near the maritime border with North Korea. The disaster killed at least 36 sailors and has thrown South Korea into mourning.
It would not be surprising if many South Koreans blame their northern neighbor for the incident. In the 57 years since an armistice halted the Korean War, the insular North Korean regime has carried out numerous provocations against the south, including armed assaults, kidnappings, and assassination attempts.
---