US losing jobs as free trade agreement languishes, Colombia says
The US has yet to ratify its free trade agreement with Colombia, and Colombia's trade minister is in Washington this week to deliver a message: It's costing the US jobs and exports.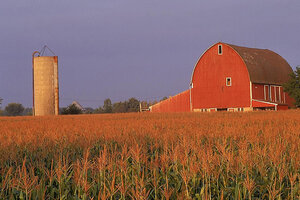 NEWSCOM
Foreign trading partners who have had to endure the American view that a free-trade agreement with the United States is worth waiting for have a message for the US: Your glacially slow pace of ratifying FTAs is costing you exports, and jobs.
The latest warnings from a would-be free-trade partner come from Colombia. Its free-trade agreement with the US has languished since 2006, awaiting congressional approval.
Armed with a raft of trade statistics, Colombia's trade and tourism minister, Luis Plata, is in Washington to broadcast a three-pronged warning:
US exports to Colombia are falling.
Neighbors in the hemisphere – from Canada to Brazil and Argentina – are happily taking up the slack.
Once market share is lost, experience shows, it becomes difficult to regain.
Mr. Plata takes that message to US Trade Representative Ron Kirk on Thursday.
"The landscape is changing, with displacement of the US from our markets by new trade partners who are coming in," said Plata, who met with reporters at Washington's National Foreign Trade Council,Wednesday. "We're taking that message to the Obama administration and the Congress."
---