Gates, Clinton oppose cuts to State Department budget
Defense Secretary Robert Gates joined Secretary of State Hillary Clinton in speaking out against the Senate Budget Committee's proposed cuts to international programs in the State Department budget. Military and diplomatic missions are too linked not to fund one side of them, they argued.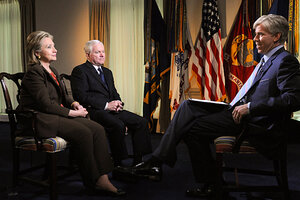 William B. Plowman/Meet the Press/AP
Secretary of State Hillary Rodham Clinton did not stand alone when she objected this week to a Senate Budget Committee plan to take much of a nearly $10 billion cut in President Obama's proposed discretionary spending for next year from State Department and other international programs.
Joining her was Defense Secretary Robert Gates, who in recent years has fought tirelessly for increasing the US government's civilian international capacities. His argument: For the good of America's long-term national security, the Pentagon must be able to relinquish some of the nation-building and other international development duties it has taken on by default.
More than perhaps any other two secretaries of Defense and State, Mr. Gates and Mrs. Clinton have worked as a team to promote the concept of "smart power" and the 21st-century's demands for more effective and coordinated military and civilian operations. "The two of them together continue to emphasize that as we have a balanced national security strategy, we need to have a balanced national security budget to support that strategy," says State Department spokesman Philip Crowley.
That perspective is clear in Gates's defense this week of fully funded State Department and other civilian international budgets. In a letter to Senate Budget Committee Chairman Kent Conrad (D-N.D.) Gates hammered at what has become his signature theme, that civilian foreign affairs are "a critical component of an integrated and effective national security program."
---