Iran nuclear program: On sanctions, Congress ahead of Obama
The House and Senate are progressing with bipartisan legislation to impose sanctions in response to the Iran nuclear program. But President Obama faces difficulties in the UN Security Council.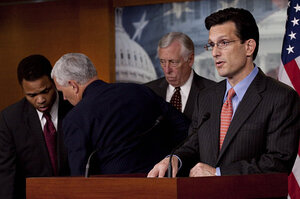 Harry Hamburg/AP
In the race between Congress and the Obama administration to deliver a new round of sanctions related to the Iran nuclear program, lawmakers appear to be winning.
On Wednesday, members of a House-Senate conference on an impending Iran Sanctions Act will meet to take public comment and to iron out differences between each chamber's version – with the aim of delivering the law to President Obama's desk within a few weeks.
In the meantime, the administration's push for approval of new international sanctions on Iran by the United Nations Security Council is facing new headwinds.
China, having only recently agreed to join in discussions with Security Council colleagues on a new sanctions resolution, is busy watering down its content – in particular any provisions targeting Iran's energy sector, on which China depends in part to fuel its economy. And now rotating Security Council member Brazil is offering to team up with Turkey to mediate the crisis between Iran and Western powers as a means of staving off new UN sanctions.
Add to that the fact that Lebanon on May 1 assumes the month-long rotating presidency of the Security Council, and prospects for quick action on a sanctions resolution that Mr. Obama said weeks ago he wanted passed "within weeks not months" appear less than bright.
House and Senate both passed bills
The picture is different on Capitol Hill. After both houses overwhelmingly passed separate versions of Iran sanctions legislation – the House in December in a 412-to-12 vote, the Senate unanimously in January – conferees appear anxious to demonstrate that a much-maligned and divided Congress is able to get something done.
---