'Not welcome' sign out for Iran's Mahmoud Ahmadinejad
Iran's President Mahmoud Ahmadinejad wants to come to New York next week to speak at a United Nations conference on nuclear nonproliferation. The US can't really keep him out of the UN, but some are urging hotels to post 'no vacancy' signs.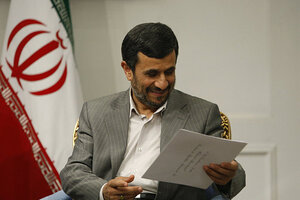 Vahid Salemi/AP
Nothing like a planned visit by Iranian President Mahmoud Ahmadinejad to American soil to get people demanding the US yank the diplomatic welcome mat.
The Iranian government announced Thursday that Iran's president, an international lightning rod par excellence, was seeking a US visa to attend a United Nations conference next week on nuclear nonproliferation. Within hours, at least one US senator was demanding he be turned away, and a New York organization was imploring the city's hotels to deny him a bed.
The bearded, perpetually smiling Mr. Ahmadinejad is widely known – and at least in many Western circles reviled – for denying the Holocaust, denying the existence of homosexuals in Iran, and for touting a nuclear program many in the West believe is aimed at delivering a nuclear weapon. Oh, and in recent months for brutally shutting down Iran's pro-democracy movement.
UN rogue's gallery
Still, as host nation of the UN headquarters in New York, the US traditionally grants visas to even the most controversial leaders wishing to attend UN events. (Think Fidel Castro, Muammar Qadafi, and in past years Ahmadinejad himself.) But that doesn't sit well with everybody.
---