Ahmadinejad: critics of Iran nuclear program 'illegitimate'
In a rambling press conference during the UN conference on nuclear nonproliferation, Iranian President Mahmoud Ahmadinejad claimed that most countries support Iran's nuclear program.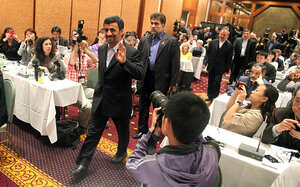 Bebeto Matthews/AP
Iranian President Mahmoud Ahmadinejad on Tuesday dismissed United Nations Secretary General Ban Ki-moon's questioning of Iran's nuclear ambitions.
That's just the result of pressure from the UN headquarters' powerful host country, he said. And he claimed that most countries support Iran in its nuclear developments – unlike the world's "illegitimate power structure" represented by the UN Security Council.
In a rambling, nearly two-hour-long press conference at a hotel across from the UN complex, the Iranian leader lamented the condition of women in the West and declared the US is free to seize any weapons it believes are being shipped from North Korea to Tehran.
"Weapons from North Korea to Iran?" he said in response to a question about US allegations of detected arms shipments. "I don't understand, we don't need arms from there."
Noting that it is the US that is fighting wars in Afghanistan and Iraq, he added that the US might be able to use such weapons.
Nuclear haves vs. have-nots
But Mr. Ahmadinejad's focus was on the world's prevailing nuclear nonproliferation regime – under review this month at the UN's Non-Proliferation Treaty (NPT) review conference – and his view that the current structure perpetuates the power of the world's nuclear haves while relegating the have-nots to second-class status.
---