UK general election: Could it end 'special relationship' with US?
Americans might have a rooting interest in the UK general election. The two leading candidates for prime minister have opposite views about the importance of the US-Britain relationship.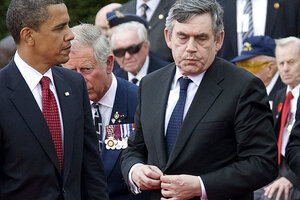 Chris Helgren/Reuters
Ever since Winston Churchill spoke of a "special relationship" between the US and the United Kingdom more than 60 years ago, the phrase has been used to describe relations between two countries that have stuck by each other's side right through the wars in Iraq and Afghanistan.
But is the special relationship now dead?
The results of the UK general election Thursday are likely to be a determining factor.
If the Conservative leader David Cameron pulls off a win, look for a concerted effort at least from the eastern side of the Atlantic to revitalize a relationship that by all accounts sat stuck in the deep freeze under President Obama and Prime Minister Gordon Brown.
But if the Liberal Democrats led by the surprisingly strong Nick Clegg somehow come out on top, the phrase "special relationship" is likely to be retired to the history books, alongside the unequaled ties forged in the war years of Churchill and President Franklin D. Roosevelt. Mr. Clegg has made it clear that he sees Britain's future with Europe more than with the US.
---