Signs of a growing US-Japan split in Okinawa base dispute?
The Pentagon has agreed to shrink the size of its forces, but the Japanese prime minister vowed to get an unpopular Okinawa base moved entirely. Officials will try to resolve the US-Japan dispute Wednesday.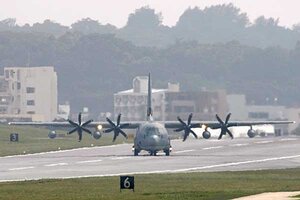 Toru Hanai/Reuters
American and Japanese officials will take another stab Wednesday at resolving a dispute over relocation of a US Marine air base on Okinawa. The dispute has revealed cracks in the US-Japan alliance and deepened concerns in Washington over Japan as a partner in East Asian security.
Japanese Prime Minister Yukio Hatoyama's deadline of May 31 for finding a solution is fast approaching, but the two sides' demands are seemingly still far apart. The prospect of Mr. Hatoyama's government falling because of the issue is rising, both Japanese and US East Asia experts say.
Perhaps the only thing standing in the way of that outcome is that no attractive alternatives to Hatoyama are waiting in the wings. Japan has already had four prime ministers in four years.
Still, more months of a weak leader in Tokyo who is unable to make good on a campaign commitment to build a more equal and mature relationship with the United States will only send Washington elsewhere for more reliable Asian partners, the experts add.
---