Hillary Clinton: Russia, China to back new Iran nuclear sanctions
The five permanent members of the UN Security Council favor a fourth round of sanctions over the Iran nuclear program. It's seen as a response to Monday's nuclear fuel swap deal.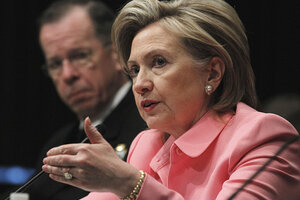 Manuel Balce Ceneta/AP
The United States is to begin circulating today at the United Nations in New York a new resolution of sanctions on Iran over its nuclear program and continued enrichment of uranium.
Secretary of State Hillary Rodham Clinton's surprise announcement during Senate testimony Tuesday morning – and her elaboration that both Russia and China are on board in supporting the new resolution – is seen in part as a Big Powers' response to a deal struck with Iran Monday by Brazil and Turkey to move a portion of Iran's enriched uranium stockpile out of the country.
Officials from both Turkey and Brazil said the plan to swap the uranium for fuel rods – which Iran needs for a research reactor – nullified any need for additional sanctions on Iran.
IN PICTURES: Who has the nukes?
But the US, Russia, and European countries quickly rained doubts on the proposal and dampened hopes that the swap deal – modeled after an earlier deal brokered by the UN and involving a uranium transfer to Russia – would sideline the international push for sanctions.
---