Obama and Calderón agree: Arizona immigration law is wrong
President Obama tells Mexican President Felipe Calderón he opposes the Arizona immigration law and will seek comprehensive immigration reform. But he acknowledges that he'll need some Republican votes in Congress to succeed.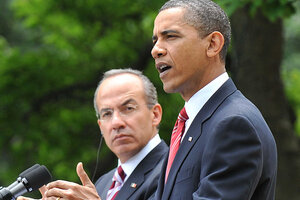 Newscom
President Obama pledged to Mexican President Felipe Calderón Wednesday to seek "comprehensive immigration reform" to stem what he called the "frustration" that has led to measures like Arizona's controversial anti-illegal immigration law.
But turning domestic, Mr. Obama said he could not accomplish that goal with the help of his own party alone, and he called on Republicans to join in fixing what he called "our broken immigration system."
Saying "I need some help to get it done," the president noted that he does not have 60 Democratic votes in the Senate and added, "I have to get some support from the Republicans."
IN PICTURES: The US/Mexico border
Immigration has been at the heart of US-Mexico relations for decades, and so it was Wednesday as Obama received Mr. Calderón for a state visit. Calderón set the tone by declaring as of his morning arrival at the White House that "despite their enormous contributions" to the US, millions of immigrants "live in the shadows and, at times, as in Arizona, confront patterns of discrimination."
Asked at a noon press conference if he agrees with Calderón that the Arizona law is "discriminatory," Obama said "the Arizona law has the potential of being applied in a discriminatory fashion."
---