Obama's National Security Strategy: Is 'I'm not Bush' ending?
As the Obama administration seeks to differentiate itself from its predecessor, it may risk playing down the role of 'hard power' too much. The National Security Strategy will be unveiled Thursday.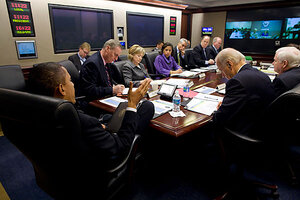 Pete Souza/The White House/Reuters/File
President Obama's first National Security Strategy, to be unveiled by the administration this week, is being summed up in some circles as a repudiation of President Bush's reliance on "unilateral" American power.
But in its emphasis on strong international alliances, the promotion of universal values like democracy and human rights, and the crucial role of a strong economy and an innovative society at home, the document looks to be just as much a reaffirmation of traditional US foreign-policy themes.
The National Security Strategy, a broad statement of foreign-policy goals for addressing key international threats to America's well-being, is slowly emerging from its wraps. Secretary of State Hillary Rodham Clinton is to lay out the strategy in a speech at the Brookings Institution in Washington Thursday. Mr. Obama gave a preview of the strategy's key points in a West Point commencement address Saturday, White House officials say.
In the West Point speech, Obama spoke of an "international order" that "can resolve the challenges of our times." It will be promoted through four "pillars" of American action: renewed and expanded alliances; strength abroad through strength at home, with an emphasis on education, clean energy, technology, and innovation; support for international development and a revitalized diplomatic corps; and promotion of democracy and human rights.
---