US pushes Iran sanctions over Brazilian-Turkish uranium swap
The Brazilian-Turkish deal does nothing to address concerns about Iran's continuing enrichment of uranium, US officials said Friday. The US believes Iran is using the swap as a tactic to delay a UN sanctions resolution.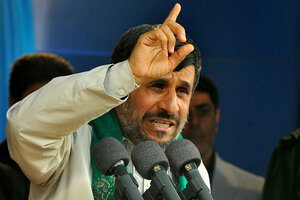 Newscom
Obama administration officials insisted Friday that a US-sponsored United Nations resolution with new sanctions on Iran is moving forward – even as they scrambled to remove the speed bumps placed in the resolution's path by a recent Brazilian-Turkish uranium fuel-swap deal with Tehran.
The Brazilian-Turkish deal, also known as the tripartite agreement, does nothing to address US and international concerns about Iran's continuing enrichment of uranium, senior administration officials said Friday. Because of that, they added, the agreement cannot be seen as a substitute for "pressure" on Iran to reassure the international community that its nuclear program is, as it says, solely for peaceful purposes.
The tripartite deal is "separate from the basic facts that have brought this issue to the Security Council," a senior US official says, citing Iran's continued uranium enrichment to 20 percent purity. For that reason among others, "it's important we proceed to New York to adopt the sanctions resolution."
In an unusual Friday afternoon conference call with reporters, the officials said Brazilian and Turkish officials were "well aware" of waning Western interest in a fuel swap deal with Tehran before the two countries took their proposal to Tehran earlier this month.
---