Will China ever revalue its currency? Maybe next month.
China is under international pressure to revalue its currency to address trade imbalances. It didn't do it at this week's bilateral meeting with US officials but may ahead of G-20 meetings in June.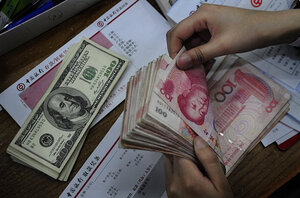 AP Photo
For those in the US who were disappointed that China did not use this week's US-China dialogue to announce a revaluation of its currency – such as some members of Congress – the next occasion to watch may be next month's G-20 meetings.
China knows it is under pressure to revalue its currency, the renminbi, as a sign of its willingness to address trade imbalances. But the Chinese government is more likely to act in the run-up to a major international economic gathering than in the context of a bilateral dialogue with the US, say some business and economic experts.
Even if China does respond to international pressure in coming weeks, say some of the same experts, any Chinese action is unlikely to have the kind of impact on US trade figures – and jobs – that Congress is looking for.
"We agree China ought to have an exchange rate that better reflects market influences," says John Frisbee, president of the US-China Business Council in Washington. "But we don't think it's going to have much of an impact on the bilateral trade deficit, nor do we think it's going to have an impact on American jobs."
---