Can UN's latest Iran sanctions be a game-changer?
This new round of Iran sanctions, approved Wednesday by the UN Security Council, won't on its own stop Iran's nuclear program, say most analysts. But it will raise the cost Tehran pays, both diplomatic and financial, for its nuclear pursuits.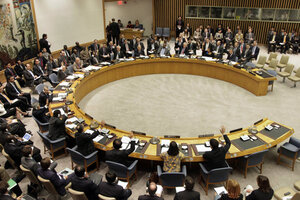 Richard Drew/AP
President Obama wasted no time in hailing Wednesday's passage by the UN Security Council of a resolution targeting Iran's nuclear program as "the toughest sanctions ever faced by the Iranian government."
While that may be true, almost no one believes that the new resolution – any more than three before it targeting Iran – will on its own stop Iran's nuclear program.
What the resolution does, some nuclear and Iran experts say, is increase the cost Iran pays – both diplomatic and financial – for pursuing a nuclear program that much of the world community (including crucial Iranian commercial partners Russia and China) has deemed to be in violation of international requirements and a threat to international security.
And that, in turn, may eventually affect the path Iran takes with its nuclear ambitions.
"Is this going to change Iran's behavior? In the short term, no," says Daryl Kimball, executive director of the Arms Control Association in Washington. "But what the resolution has the potential to do, especially given the Russian and Chinese votes [in favor], is change the calculations in Tehran over the value of pursuing their nuclear program in the manner they've chosen," he adds. "To start with, it's going to become more difficult [for Iran] to get the parts and materials it needs to continue advancing."
---
Follow Stories Like This
Get the Monitor stories you care about delivered to your inbox.