UN condemns Somalia's use of child soldiers, but US aid still flows
Both the insurgent group Al Shabab and the US-backed Somali government rely on children to fill their ranks, human rights officials say.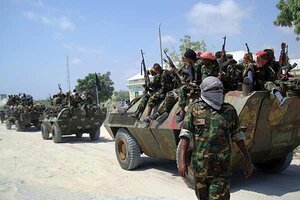 Farah Abdi Warsameh/AP/File
The United States this week joined other members of the United Nations Security Council in condemning the growing use of children in conflict – as soldiers, bomb makers, cooks, and sex slaves – by rebel groups and governments alike.
Yet even as the US singles out Somalia as one of the world's worst child-soldier offenders, mounting evidence suggests the US-backed Somali government is using child soldiers in its fight with the Islamist-militant Al Shabab group.
And that in turn has some experts concluding that the US assistance is paying the pittance salaries of Somali child soldiers.
At Tuesday's Security Council debate on children and armed conflict, US Ambassador to the UN Susan Rice said the US is "particularly concerned about the situation in Somalia," where she said all parties to the conflict have "placed several thousand children in the line of fire."
The US, she said, calls on the parties to the conflict to cease child recruitment and to release those children already in the fight.
---