US objects to China-Pakistan nuclear deal. Hypocritical?
The Obama administration objects to China selling nuclear reactors to Pakistan, which has never signed the nuclear Non-Proliferation Treaty. But the US sealed a similar deal with India.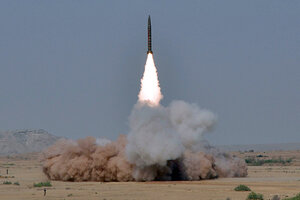 Pakistan Inter Services Public Relations/AP
China wants to sell two nuclear reactors to Pakistan. The Obama administration thinks that's a bad idea – but how to oppose that plan while dodging charges of hypocrisy, given the administration only last year sealed a US deal to supply India with civilian nuclear equipment? And how to press to halt the intended sale while preserving relations with two crucial partners, China and Pakistan?
The China-Pakistan deal will come up next week when the 46-country Nuclear Suppliers Group (NSG) meets in New Zealand.
The US will argue – somewhat uncomfortably, given the US-India deal – that the proposed sale to Pakistan violates the international body's standards. China is expected to counter that what would be a lucrative deal for one of its state-owned companies should be "grandfathered" because the two reactors are part of a deal that actually predates China's 2004 membership in the NSG, which monitors nuclear transactions.
Administration officials this week tried to put diplomatic dressing on US opposition to the sale.
---