G20: Paving the way for a new Great Depression?
At the G20 summit in Toronto, world leaders agreed to halve deficits in three years. At least one prominent economist says spending, not cuts, is what's needed.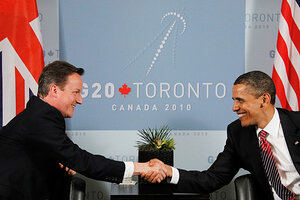 Charles Dharapak/AP
World leaders have pledged to slash the government deficits of industrialized countries by half over the next three years. Is that goal, set at the just-concluded G20 summit in Toronto, fiscal prudence – or the prelude to the next Great Depression?
Paul Krugman believes it's the latter. In a widely read Monday New York Times column, the Nobel Prize-winning liberal economist writes that he fears the world is in the early stages of a third depression, an economic downturn as dire as the years that followed the Panic of 1873 or the Great Depression of the early 20th century.
The problem, according to Mr. Krugman, is that governments are obsessing about inflation and debt when the real threat is deflation and unemployment. The world does not need more belt-tightening, he writes. It needs more stimulus programs.
"The real problem is inadequate spending," writes Krugman.
That's not the way European leaders see things. German Chancellor Angela Merkel and others see budget retrenchment as the industrialized nations' top priority. Otherwise, they feel, the world risks spending itself into insolvency, and credit crises won't be limited to Greece, Spain, and other nations on the periphery of the Euro zone.
---