Get tough on Hugo Chávez, GOP senators tell Hillary Clinton
In a letter to Secretary of State Hillary Clinton, a group of Republican senators called for a harder line against Venezuela's Hugo Chávez over allegations of human rights abuses.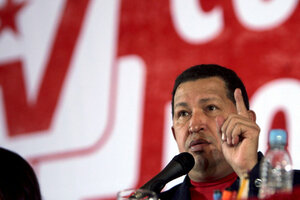 Miraflores Palace/Reuters
A group of Republican senators is asking Secretary of State Hillary Rodham Clinton to get tough with Venezuela's Hugo Chávez over what they say are the South American leftist's accelerating human rights abuses.
Citing a "deepening deterioration of human rights and democracy in Venezuela" that they claim could destabilize the country and have "serious consequences" for US interests, the senators want Secretary Clinton to test the regional appetite for invoking the Organization of American States' Democratic Charter against Venezuela, an OAS member.
The senators may also be seeking to test the Obama administration's own appetite for initiating a confrontation with Venezuela. The administration has generally applied a pragmatic approach to Mr. Chávez and sought to tone down the rhetorical war that periodically flares between the two countries.
In a letter sent Wednesday to Clinton, the senators list several examples of "worsening conditions" for Venezuela's civil society and political opposition, including the December arrest and ongoing detention of a judge whose parole of a jailed business leader infuriated Chávez. The letter also cites the "judicial harassment" of Globovision, considered Venezuela's sole remaining independent TV station, and a February report by the Inter-American Commission on Human Rights detailing numerous examples of rights violations in Venezuela.
---