North Korea sanctions: Are they meaningless?
Secretary of State Clinton announced new North Korea sanctions Wednesday, but many experts doubt the measures will persuade North Korea to resume talks over its nuclear program.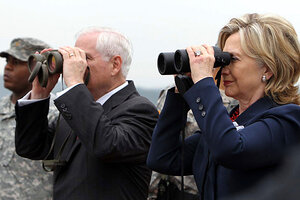 Korea Pool/AP
US sanctions on North Korea unveiled Wednesday by Secretary of State Hillary Rodham Clinton may sound like a move in the right direction: hurting the pariah state's elites by targeting illicit and lucrative activities like counterfeiting and contraband sales.
But the measures are unlikely to produce the desired effect of coaxing Pyongyang back to stalled international talks on its nuclear program, some North Korea experts say. The moves resemble piecemeal steps of the past, they add, and are unlikely to strike where it hurts: the regime's access to under-the-table international funds.
"If I were in Pyongyang, I would not be trembling in my boots about this," says Nick Eberstadt, a North Korea specialist at the American Enterprise Institute in Washington.
Secretary Clinton, accompanied by Secretary of Defense Robert Gates, announced the measures while on a visit to South Korea intended to show US resolve toward the North. The trip was also meant to show support for the South in the aftermath of the deadly attack in April on a South Korean naval vessel, the Cheonan. Washington and Seoul blame Pyongyang for the attack that killed 46 South Korean sailors. The North denies responsibility.
Clinton and Secretary Gates included a visit to the De-Militarized Zone, 30 miles north of Seoul in their stopover, touring a building in a so-called "truce village" that straddles the north-south border.
---