As Pakistan flood worsens, US hand in recovery expands
USAID said Monday that it will send heavy-duty plastic to provide temporary housing for more than 140,000 victims of the Pakistan flood. A robust US effort could help thwart Taliban influence.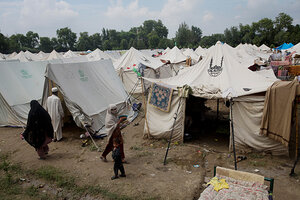 Mohammad Sajjad/AP
Pakistan's monsoon flooding has affected 14 million people in an ongoing crisis that is threatening more people than this year's Haiti earthquake and the 2004 Indonesian tsunami combined, say international disaster experts.
With that in mind, the US is racing to provide basic human needs, like makeshift housing, in the an area that has also become the epicenter in the global battle with militant Islam.
While its first priority in helping flood victims may be humanitarian, how the US responds could help thwart the spread of the Taliban and other extremist groups in Pakistan, some US officials and regional experts say.
The US Agency for International Development (USAID) announced Monday that enough heavy-duty plastic sheeting to provide emergency housing for more than 140,000 flood victims would begin arriving later this week.
Previously, the US announced $35 million in emergency assistance to Pakistan in the wake of a disaster that Pakistani government officials describe as "beyond imagination" and setting the country back years if not decades.
Mindful that the Taliban and other extremist organizations will be anxious to fill a void left by an unprepared government, the US is carefully noting at each announcement of additional assistance that the US effort is being conducted in full cooperation with Pakistani authorities.
"We are working in support of the relief effort of the Pakistani government and together with the humanitarian community to quickly provide aid to those in need," said Mark Ward, acting director of USAID's Office of US Foreign Disaster Assistance, on Monday.
But privately, US officials are expressing dismay over what many see as a slow response and lack of preparedness by Pakistan's civilian authorities. In their own defense, Pakistani officials claim to be dealing with a crisis surpassing the dimensions of the 2005 earthquake in Kashmir.
---