Top issue in Israeli-Palestinian talks: When will real negotiations begin?
Before Mideast peace talks Thursday, Secretary of State Hillary Clinton warned the two sides in the Israeli-Palestinian conflict that they have nothing to gain by waiting to tackle thorny issues.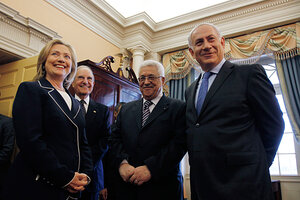 Jason Reed/Reuters
Secretary of State Hillary Rodham Clinton formally launched direct talks between the Israeli and Palestinian leaders at the State Department Thursday morning.
Flanked by Israeli Prime Minister Benjamin Netanyahu and Palestinian Authority President Mahmoud Abbas, Secretary Clinton spoke of an arduous road ahead but warned that the difficult issues to resolve before a peace accord can be reached "will get no easier if we wait."
She turned to the two leaders beside her and added, "I firmly believe … you are the leaders who can make this long cherished dream a reality."
No one expects substantive results from the day's talks, but two issues to be addressed immediately will be watched as an initial gauge of the prospects for this latest stab at reaching a peace accord: where and when will the real negotiations commence, and in what order will the talks address the key issues that must be resolved?
As Clinton told the two leaders and their accompanying teams, "The true test" of whether these talks succeed "is not the first day, and it's not the last. It's … all those long days in the middle." The Obama administration has set a goal of reaching an accord within a year.
Face to face
Administration officials – some of whom, including Clinton, are benefiting from their experience in past peace efforts – say they want the continuing talks to be frequent, face-to-face sessions, most likely in the region for easy accessibility.
---