Hillary Clinton on America's future: US retains role as world leader
The US will continue to lead the 21st-century world, Secretary of State Hillary Clinton said Wednesday in a foreign policy speech. But American preeminence will rely more on partnerships and less on economic and military might, she said.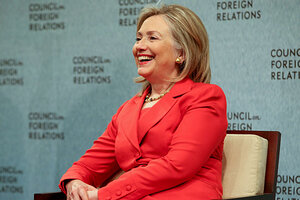 Gary Fabiano/Sipa Press/Newscom
Secretary of State Hillary Rodham Clinton sought Wednesday to paint a picture of a 21st-century world where the United States remains the preeminent leader – though less as a result of unrivaled economic and military might than through new and reinvigorated partnerships.
"The United States can, must, and will lead in this century," Secretary Clinton told an audience of foreign policy specialists and practitioners at the Council on Foreign Relations (CFR) in Washington. The "complexities of this world" require "a new American moment," she said.
Clinton's outline of the Obama administration's foreign policy vision comes about a year after she gave a similar speech focused on President Obama's national security strategy. Though the rise of China and other emerging powers challenges the idea of preeminent American power, she said in her speech that the world still craves American leadership.
"People still look to the US," she said. Leaders and people in regions around the world look to the "can-do spirit that comes with American engagement." People around the world expect the US, more than other countries, to lead by example and by upholding the values and universal rights America is known for, she said.
Clinton said the Obama administration came into office some 18 months ago determined to "revitalize" existing partnerships and to develop new ones. "We are beginning to see the dividends of this strategy," she said.
---