UN Millennium Development Goals: Are they being reached?
The UN leader urges world leaders attending a summit to rededicate themselves to reaching the Millennium Development Goals. Despite some successes on poverty and school enrollment, many challenges remain.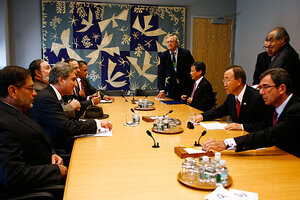 Eric Thayer/Reuters
The status of the ambitious goals world leaders set a decade ago for reducing extreme poverty and enhancing global development by 2015 is a classic case of the glass being either half empty or half full.
As a largely new crop of world leaders gathers for a summit at the United Nations in New York to rededicate themselves to the Millennium Development Goals set in 2000, it is possible to cite significant progress in a number of areas, from the headway made in cutting the world's worst poverty to significant jumps in primary school enrollment.
At the same time, however, several of the UN's eight millennium goals have seen painfully little progress and at the current snail's pace of improvement won't be reached, development experts and international officials say. Among the farthest off the mark: the goal of reducing by three-fourths the maternal mortality rate, and that of reducing by two-thirds the mortality rate of children under 5.
With the 2015 goal line approaching, UN Secretary-General Ban Ki-moon wanted to seize the opportunity of this week's gathering of world leaders in New York for the annual opening of the UN General Assembly to hold a summit focusing global attention on the work still to do if the poverty-reduction goals are to be met, aides say.
---