Obama, at UN, urges nations to support Middle East peace drive
In his second address as president to the annual opening of the UN General Assembly, Obama urges supporters of Palestinians to back their pledges with deeds, and asks Arab states to normalize ties with Israel.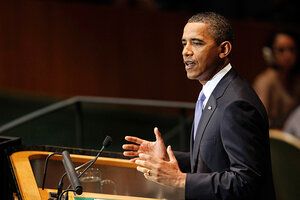 Jason DeCrow/AP
President Obama on Thursday implored the world not to sit on the sidelines of the relaunched Israeli-Palestinian negotiations but to actively support two parties that he said could, with courage, deliver an independent Palestine within a year.
In his second address as president to the annual September opening of the United Nations General Assembly, Mr. Obama in particular upbraided the world's many declared friends of the Palestinian people, whom he said are not doing enough to support a successful outcome in the talks.
"Many in this hall count themselves as friends of the Palestinians. But these pledges must now be supported by deeds," Obama said, calling on Arab states in particular to give robust support to the Palestinian leadership and to "seize this opportunity" by normalizing relations with Israel as promised in the Arab Peace Initiative.
(FIVE largest Israeli settlements: who lives there, and why)
---