Obama puts Asia on his agenda. Will it make a difference?
Obama holds meetings with Asian leaders at UN on economic and security issues. But some analysts say he is doing no better than his predecessors at resolving the region's challenges.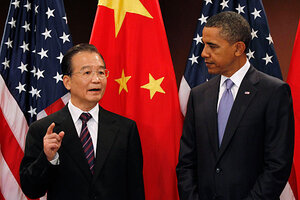 Jason Reed/Reuters
President Obama, in a series of meetings at the United Nations, has sought this week to underscore his administration's view of Asia as increasingly important to the US economy and national security.
On Friday Mr. Obama hosted a lunch for leaders of the 10-nation ASEAN organization of Southeast Asian countries, where he signaled a determination to strengthen the US security partnership with the region – especially as it confronts an increasingly assertive China.
Trade with the region's growing economies was also on the agenda, with Obama telling the leaders that US trade with their countries is crucial to millions of American jobs.
A day earlier Obama held a two-hour meeting with Chinese Premier Wen Jiabao, where he focused on economic issues. In particular – and with one eye on pending congressional action – the president zeroed in on US demands for a revaluation of the Chinese currency. Economists estimate that the Chinese renminbi is kept artificially weak by as much as a quarter of its value, a policy that favors Chinese exports but which some US officials (and members of Congress) say costs the US exports and jobs.
---