Hillary Clinton: A quiet brand of statecraft
Hillary Clinton has been loyal to President Obama, her one-time rival. Now she's seeking to redefine U.S. foreign policy for a new century, even as the latest mideast peace talks test her skills as a negotiator.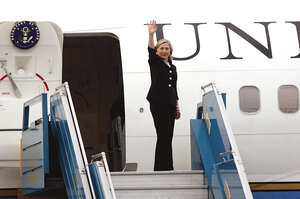 Kham/AP
Barely 48 hours had passed since daughter Chelsea's Hudson River Valley wedding, and Secretary of State Hillary Rodham Clinton – still clearly in the glow of mother-of-the-bride-dom – was back giving full attention to her role as chief diplomat and administrator for the foreign policy of President Obama.
Taking the stage Aug. 3 in a turquoise pantsuit before a sea of young African leaders invited to Washington for a presidential initiative, Secretary Clinton told her audience in a deadpan voice that her talk on the US trade and development partnership with sub-Saharan Africa would have to wait. She had a little business to clear up first.
"When I was in Nairobi last year, a very nice man offered 40 goats and a number of cows for the chance to marry my daughter," she said as cellphone cameras snapped a shot of one of the world's most powerful and recognizable women. Noting that her husband, former President Bill Clinton, had received the same offer from the same man five years earlier, Clinton added, "As of this week, I can now say with great certainty my daughter is officially off the market."
IN PICTURES: Travels with Hillary Clinton
---