Notable architects of US foreign policy
From 'Seward's folly' to the marshall plan, a snapshot of American diplomacy of the past.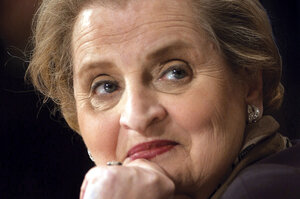 Andy Nelson / The Christian Science Monitor
Thomas Jefferson, the first secretary of State, reigned over a whopping staff of five – a chief clerk, three subordinate clerks, and a messenger boy.
He was the first, but certainly not the last, secretary of State to have his access to the president short-circuited by another cabinet member: in his case, Treasury Secretary Alexander Hamilton.
Jefferson failed to resolve one of the big diplomatic challenges of his tenure: unbridled American navigation of the Mississippi River. Later as president he would solve his old bête noire, access to the Mississippi, by buying the river as part of the Louisiana Purchase.
John Quincy Adams served as secretary of State under President James Monroe and wrote what became known as the Monroe Doctrine, putting European powers on notice to butt out of the Americas.
Daniel Webster, a prominent senator who served twice as secretary of State in America's antebellum years, was also a thrice-unsuccessful candidate for president.
William Seward was best known for "Seward's Folly," the purchase of Alaska from Russia.
---