North Korea succession: Analysts see turbulent period ahead
Amid signs that North Korea's Kim Jong-il is paving the way for his Swiss-educated son to assume power, analysts caution that his youth, and need to prove himself, could pose risks for the US.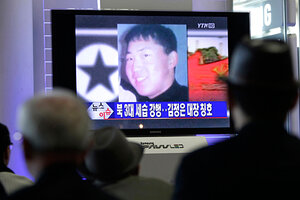 Ahn Young-joon/AP
The prospect of a Western-educated son taking the reins of power from Kim Jong-il, the ailing leader of a closed and backward North Korea, may sound promising.
But as US officials try to divine what a possible transition from Mr. Kim to his son Kim Jong-un would mean for US-North Korea relations and for the myriad security issues confronting north Asia, regional analysts are generally more focused on the implications of the son's young age – either 28 or 29 – than on his years of schooling in Switzerland.
Would such a young leader, especially one with knowledge of a prosperous and free world beyond North Korea's borders, be more apt to press for changes to bring his country into the 21st century? Or would such a young and untested newcomer to the North's leadership be most anxious to prove his toughness to the country's military hierarchy?
"At first glance this can seem like a good thing – that with new people in power, maybe a younger generation will be more open to modernizing the country and opening up to the West," says Jim Walsh, a North Korea expert in the Massachusetts Institute of Technology's security studies program.
---