Iran's Bushehr nuclear plant delayed: Stuxnet not to blame, official says
Iran officials said a leak at the Bushehr nuclear power plant will prevent it from beginning operation this year. The delay comes as experts suggest the facility might have been targeted by a foreign government using the Stuxnet computer worm.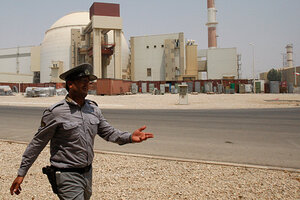 Vahid Salemi/AP/file
Iran's Russian-built, repeatedly delayed nuclear power plant at Bushehr now won't start producing electricity until early next year, Iranian officials say. But they say the delay has nothing to do with the Stuxnet worm, a malicious computer program that was found on computers at the site last week.
Iran did announce over the weekend the arrest of a number of "nuclear spies," but the arrests were not officially linked to the Stuxnet computer worm nor were details provided about the arrested individuals. Officials insist that the malicious program affected only the personal computers of a few workers at the plant, and that all programs have been scanned and any detected presence of the Stuxnet worm removed.
The detection of the malicious program, or "malware," at Bushehr raised speculation that the Stuxnet worm was the work of either a government or a deep-pocketed and well-connected private group of hackers intending to shut down Bushehr.
Indeed, the discovery of the worm coincides with Western powers' attempts to relaunch negotiations with Tehran over its uranium-enrichment activities. Talks between Iran and the United Nations Security Council's five permanent member countries plus Germany broke off a year ago after Iran rejected a plan for swapping a portion of Iran's uranium stockpile for fuel.
---