Global Hunger Index top 10: Which nations have reduced hunger most?
The Global Hunger Index, released Monday, shows progress against hunger in South Asia and Latin America. But the world needs to focus on childhood nutrition for this to continue.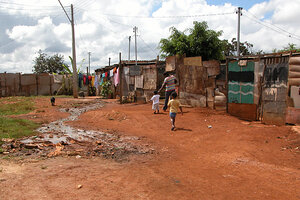 Jen Ross
To understand how the world has reduced the ranks of the hungry over two decades, take a look at Malaysia.
Food and nutrition programs targeting the very youngest have been added to sustained economic growth, and that combination has put the Southeast Asian country near the top of the list of the world's hunger reducers.
To zero in on why hunger remains a global challenge and an economic stumbling block in many countries – principally in sub-Saharan Africa – look no further than the Democratic Republic of the Congo.
There, a nefarious combination of conflict and deteriorating government services and infrastructure have led to a 66 percent rise in the ranks of the hungry over two decades. Three-quarters of the population now suffers from hunger.
The Global Hunger Index released Monday finds that many developing countries primarily in South Asia and Latin America have made significant progress in reducing hunger. But continued improvement in the rates of hunger – and in addressing the development problems that result from hunger – depends on a universal focus on early childhood nutrition.
"Child nutrition is one of the biggest challenges to reducing global hunger," says Marie Ruel, director of the poverty, health, and nutrition division at the International Food Policy Research Institute (IFPRI) in Washington.
---