Big British defense cuts weaken Pentagon's top military partner
As other European allies have dialed back military spending, Britain has been America's most reliable and capable security partner. But the British defense cuts announced Tuesday will affect Britain's 'long-term ability to fight alongside the US.'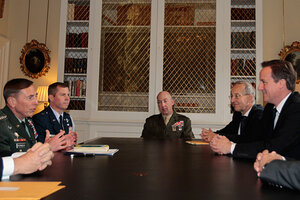 Lefteris Pitarakis/AP/file
When George W. Bush formed his 2003 "coalition of the willing" to invade Iraq, the president turned to Britain's Tony Blair – not only because the prime minister was one of the few "willing" world leaders, but also because the British military remained a robust defense force with global capabilities.
The British government's announcement this week of a review that calls for the biggest cuts in British defense spending since the end of the cold war is raising questions about Britain's ability to remain a global security player in coming years.
Another hot topic accompanying Tuesday's announcement of an 8 percent cut in military spending over the next four years: the impact a retrenched British military will have on the Anglo-American "special relationship."
The British defense cuts "will significantly weaken British military power and reduce the long-term ability to fight alongside the US," says Nile Gardiner, director of the Heritage Foundation's Margaret Thatcher Center for Freedom in Washington.
With no other Western power stepping in to fill Britain's shrinking boots, however, "At the end of the day Britain will remain America's most reliable ally as well as America's only first-rate military ally," he says.
Still a reliable partner?
---