Obama waives sanctions for four countries that use child soldiers
President Obama grants waivers to Chad, the Congo, Sudan, and Yemen, which use child soldiers but are strategically important to the US. The waivers mean military aid will continue.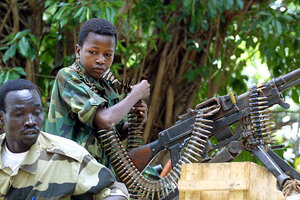 Newscom/File
As a senator, Barack Obama supported legislation requiring the United States to cut off military aid to countries recruiting and deploying child soldiers.
This week as president, Mr. Obama acted to ensure that four countries found to use child soldiers – but which are also considered key national security interests – do not lose their US military assistance. Obama heeded the recommendation of a State Department review and waived application of a year-old law on child soldiers in the case of Chad, the Democratic Republic of the Congo, Sudan, and Yemen.
In a Oct. 25 presidential memorandum, Obama said he had "determined that it is in the national interest of the United States" to waive application of the Child Soldiers Prevention Act for the four countries.
The waiver, issued quietly this week, was another example of what some diplomatic analysts consider to be Obama's pragmatic approach to foreign policy. But a number of human-rights and international-development groups say the waiver sends a bad signal.
---