Risks to US in gambit to keep the Middle East peace talks alive
The Obama administration's plan to clear the hurdle of new Israeli settlements is a risky leap, analysts say. Whether Middle East peace talks continue would hang on a 90-day window.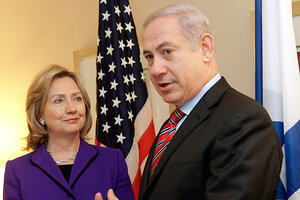 Mary Altaffer/AP
The Obama administration is pressing Israeli Prime Minister Benjamin Netanyahu to accept a 90-day freeze on settlement construction in the West Bank, suggesting that enough progress could be made over that time on land swaps and border-setting as to make moot the recurring stumbling block of settlements.
The deal represents a gamble for the Obama White House: In marathon talks last week between Mr. Netanyahu and Secretary of State Hillary Rodham Clinton, the Obama administration agreed not to seek another settlement freeze once this one would end.
But the issue of Jewish settlements on Israeli-occupied territory has so frustrated President Obama's ambitions for advancing the Middle East peace process that even a risky plan for removing the obstacle once and for all is apparently too tantalizing to pass up.
The idea is not that a full peace agreement could be negotiated by the Israelis and Palestinians within three months. Rather, the thinking is that 90 days would be enough time for the two sides to agree on exchanges of territory – a large settlement block on West Bank territory to be incorporated into Israel, for instance, in exchange for a compensating tract of land somewhere else for the Palestinians – so that new construction by Israel would no longer send peace negotiations off the rails.
The idea addresses one of the highest hurdles to sustaining peace-talk momentum, some regional analysts say, but it could also make a comprehensive peace deal more difficult.
---