New Iran nuclear talks: What can West hope to accomplish?
A US official downplays any hope of a breakthrough in talks this week on the Iran nuclear program. Western negotiators are hoping for some gesture of good faith from Iran.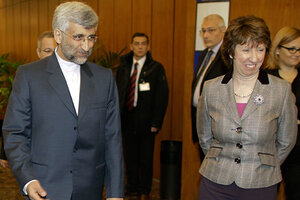 Anja Niedringhaus/AP
In talks with Iran this week in Geneva, world powers including the United States are looking for two things: a signal and a commitment.
First, the US and its five partners in the talks that started Monday want a sign from Tehran that it is serious about reducing tensions in the short term to allow for meaningful negotiations on its nuclear program.
And second, the six powers – the US and the other four permanent members of the United Nations Security Council plus Germany – want a commitment that any long-term negotiations would include Iran's continuing uranium enrichment.
So far, the talks have gotten the Iranians to agree only to a second day of talks Tuesday – which is one more day than they originally accepted.
In his remarks at the Monday meeting, Iranian negotiator Saeed Jalili focused on last week's car-bombing assassination in Tehran of a top Iranian nuclear scientist, Majid Shahriari. The Iranian side also wants any eventual negotiations to take up broader issues like international terrorism and regional security.
---