North Korea invites Bill Richardson to visit: What message is it sending?
Bill Richardson, a former US ambassador to the UN, has been invited to visit North Korea by the nation's top nuclear negotiator. It could be a bid to avoid confrontation after weeks of tensions.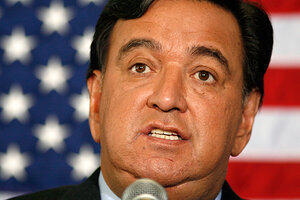 J. David Ake/AP/file
New Mexico Governor Bill Richardson's trip to North Korea next week has all the hallmarks of an effort by Pyongyang to step back from confrontation in the region that could also yield valuable information on conditions inside the closed state and the mercurial regime's thinking.
While Governor Richardson, a former presidential candidate and US ambassador to the United Nations in the Clinton administration, was invited to North Korea by the country's top nuclear negotiator, the US took pains this week to say the visit was not official US government business. Yet such unofficial visits have been useful to the North to send out diplomatic signals, and visiting Americans routinely brief US officials upon their return.
Given the current context of heightened tensions between the two Koreas, information provided to the North Koreans or gleaned from their conversation can be an important means of reversing "crisis escalation," says one US expert who has had similar private conversations with the North Koreans on their territory in the past.
"Anything you can do to reduce misperception and miscalculation helps prevent war," says Jim Walsh, a professor of security studies at the Massachusetts Institute of Technology in Cambridge, Mass., who visited North Korea in 2005 for a lengthy "private conversation."
---