US, allies reviewing sanctions on Iran: How much pain will it take?
Following two days of talks in Geneva that failed to address concerns about Iran's nuclear program, the US is signaling its readiness to seek even harsher sanctions.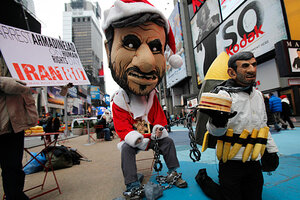 Brendan McDermid/Reuters
When it comes to US policy on Iran, the White House is signaling a move toward a variation of "no pain, no gain."
A senior White House official on Friday suggested that the US will soon seek adoption of even tougher sanctions on Iran, having concluded that the international sanctions reinforced this year are hurting but not yet causing enough hardship to alter Tehran's behavior.
Gary Samore, President Obama's special assistant for arms control and nuclear proliferation issues, told a Washington conference that the US and its partners aligned against a nuclear Iran are likely to "increase pressure" in the coming weeks in response to Iran's refusal to address international concerns about its uranium enrichment program.
"We need to send the message to Iran that sanctions will only increase if Iran avoids serious negotiations, and will not be lifted until our concerns are fully addressed," Mr. Samore told a conference organized by the Foundation for Defense of Democracies.
---