Decoding Obama's comments on war in Afghanistan: What did he really mean?
Obama's citing of 'fragile but reversible progress' in his review of the war in Afghanistan is a signal to all the parties involved, including Americans, that the US withdrawal may go slowly.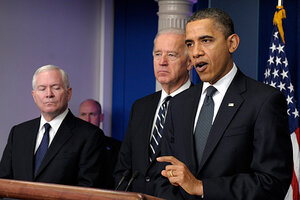 Susan Walsh/AP
A year after announcing 30,000 additional troops for the US-led fight in Afghanistan, President Obama offered a mixed picture of "fragile" progress and of more difficult days ahead in his annual review of the war.
Yet compared with a year ago – when Mr. Obama set the stage for the beginning of a troop withdrawal in summer 2011 – the president's message on Thursday was more focused on the conditions that will determine the pace of a drawdown over the next four years.
The shift in message is in part designed to tell the central actors in the war – the Taliban, the governments in Afghanistan and Pakistan, as well as the Afghan population – that the US and its partners are not pulling out any time soon, some policy analysts say. The review also reflects the commitment the US and NATO members made earlier this month to a transfer of combat responsibilities to Afghan security forces by December of 2014.
IN PICTURES: Winning hearts and minds in Afghanistan
Moving the goal posts
---