Hugo Chávez tightens his grip in Venezuela. Can US do anything about it?
With the US focused on other parts of the world, Latin American neighbor Hugo Chávez has tightened his hold on power. The next Congress may press Obama to act, but what are his options?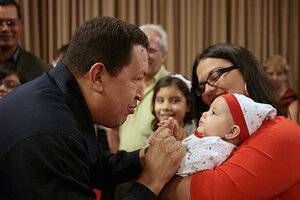 Miraflores Palace/Handout/Reuters
While the Obama administration was focused on Iran, Middle East peace, and arms control with Russia in recent weeks, Venezuelan President Hugo Chávez has been busy consolidating his already extensive powers, which now include a mandate to rule by decree.
The deterioration of democratic standards in a neighboring country is likely to emerge as a front-burner issue in Washington in 2011 – in part because voices in a new Congress are promising to prod what they see as a neglectful administration into action.
But it remains unclear what the Obama administration will be able to do about Mr. Chávez's recent acts even if it decides that Venezuela's slide from democracy is a priority.
With the Bush administration's unsuccessful attempts at thwarting the leftist-populist Chávez a fresh memory, and with the Obama administration's own foray into Latin American political peacemaking – in Honduras – having won few friends, Obama may be left with few options beyond regional diplomacy, some Latin America experts say.
---