End-of-year high note for Obama on foreign policy, too
Russia's Medvedev lauds Obama for pushing New START through the Senate. North Korea is more subdued, ahead of US visit from China's Hu. Obama and Britain's Cameron, well, they still talk.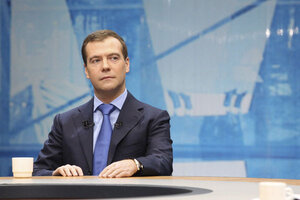 Mikhail Klimentyev/Reuters
President Obama can play golf and splash in the waves with his family in Hawaii knowing he's ending the year on a high note in the eyes of some top world leaders.
On Friday Russian President Dmitry Medvedev had nothing but praise for Mr. Obama's ability to push the New START treaty through to ratification in the Senate this week, saying the US-Russia pact on nuclear arms reduction will be the "cornerstone" of a decade of enhanced security in Europe and beyond.
Then there's the state visit by China's President Hu Jintao slated for mid-January, which may help Washington-Beijing relations – at least in the short term. China's apparent desire to avoid any hiccups before Mr. Hu's arrival, some US-China experts suggest, may be a factor in North Korea's uncharacteristically mild response to South Korea's recent military exercises.
---