Obama and Mideast peace: Time ripe to push again for breakthrough?
With political wins hard to come by at home, the president could look abroad for accomplishments to tout during the 2012 race.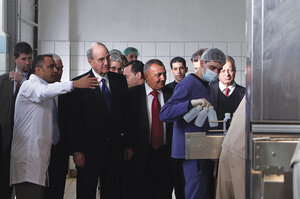 Nasser Shiyoukhi/AP
Could 2011 turn out to be a breakthrough year for Middle East peacemaking?
The idea might seem far-fetched, given that Israelis and Palestinians are not even talking to each other as the year dawns.
Yet a number of influences – including a growing Arab population in Israel, increasing international rejection of Israel's rule over the Palestinian people, and bubbling Palestinian frustrations that could presage another intifada (uprising) – are all reasons that the coming months could be different, some Middle East experts say.
But perhaps the greatest factor in determining whether 2011 turns out to be the year of either the culmination or the end of the two-state solution will be American diplomacy.
And crucial to that will be President Obama's evaluation, at some point in the weeks before September, of whether conditions are ripe for his personal involvement in reaching at least the framework of a final deal.
Mr. Obama's big-fanfare launch last September of direct talks between the Israelis and Palestinians crashed just three months later, leading some Middle East pundits to predict that the administration would be unlikely to jump headlong into the peace pot again anytime soon.
That conclusion may have overlooked two crucial realities:
First, the administration insists it is sticking to its goal of reaching a comprehensive peace settlement within the one-year deadline set by Obama last September.
"Our goal remains to reach a framework agreement within 12 months. So we're looking for some fairly rapid progress on ... substantive aspects of the core issues," State Department spokesman P.J. Crowley said at a briefing Dec. 14.
---