Egypt protests: US speaks again, but no one seems to be listening
Secretary of State Hillary Rodham Clinton's comments on the Egypt protests Friday call on President Hosni Mubarak to embrace reforms. But he hasn't paid the US heed during the crisis.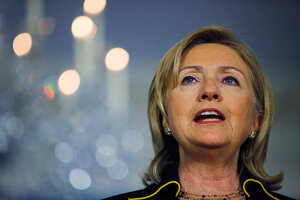 Jason Reed/Reuters
As protesters filled Egyptian streets Friday and defied a curfew, the United States toughened its calls for reforms but essentially left intact its makeshift approach to events in the key Middle East country: support for both the protesters and the government of President Hosni Mubarak.
"We want to partner with the Egyptian people and their government," Secretary of State Hillary Rodham Clinton said in a statement Friday. She called on the Mubarak government to restrain the police and security forces as a first order of business, and to move quickly to "economic, political and social reforms."
The administration thus appears set on a course of ramping up demands for "meaningful reforms" as events intensify, but continues to hold back from uttering the words the thousands of protesters would like to hear most: support for a political "transition" in Egypt.
In any case, what the US has to say may matter less than some officials in Washington may think, with evidence mounting the Mubarak regime was paying little heed to Washington's words.
---