Protests over Egypt's Mubarak spread to US cities
From New York to San Francisco, thousands of Egyptians and their supporters demonstrated against the regime of Hosni Mubarak. Meanwhile, Obama administration officials met to plan their next steps.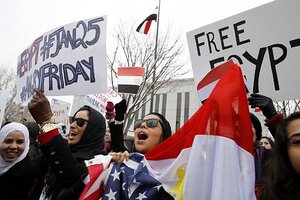 Jose Luis Magana/Reuters
As protests in Egypt went on into the fifth day, Egyptians and their supporters around the United States began demonstrating as well.
From New York to Washington to San Francisco, they gathered to denounce the regime of Hosni Mubarak – including his latest effort to name a new government and a new vice president, intelligence chief Omar Suleiman.
"It's cosmetic action by Mubarak," Ahmed Fathi, chairman of the Alliance of Egyptian Americans, told CNN. "We want Mubarak out, an end to his regime, a fresh start."
Mr. Fathi was speaking outside United Nations headquarters in New York, where about 1,000 people had gathered Saturday for a day-long demonstration. Also on Saturday, several hundred protesters gathered outside the Egyptian Embassy in Washington where police had blocked off the street.
In Jersey City, N.J., Friday a crowd of 100 or so waved Egyptian flags and burned a photo of Mubarak.
---