US pressures Egypt's Mubarak, but won't yet call for his ouster
On Egypt, the Obama administration faces its most challenging foreign policy test. But in blitzing the Sunday news programs, Secretary of State Clinton hedges on the future of Hosni Mubarak.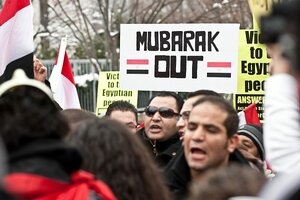 Newscom
As the sun set Sunday on a sixth day of widespread protests in Egypt, the Obama administration continued to walk a difficult line on what is generally agreed to be its most challenging foreign policy test to date.
"We want to see an orderly transition so that no one fills a void, that there not be a void, that there be a well thought-out plan that will bring about a democratic, participatory government," Secretary of State Hillary Clinton said on Fox News Sunday. "I also believe strongly that this is in Egypt's long-term interest, it is in the interest of the partnership that the United States has with Egypt so that is what we are attempting to promote and support."
Still, while it's clear that the "void" Secretary Clinton refers to could mean the absence of Egyptian President Hosni Mubarak – voluntary or otherwise – the administration is not yet ready to demand (or even to suggest) his ouster.
For his nearly 30 years in office, Mubarak has been seen by all US administrations as a key figure in working toward peace in the region while resisting the rise of Islamic fundamentalism. Egypt is the recipient of one of the largest amounts of annual US foreign aid (some $1.5 billion), most of it for military and other security programs.
From time to time, American administrations have pushed for democratic reforms in Egypt. But while Mubarak has sometimes sounded sympathetic to the idea, he's also justified his strong hold on the need to maintain security and stability in the face of growing threats that could destabilize the region.
In the face of street protests approaching revolution, plus universal calls for political and economic reform, that rationale is increasingly tenuous.
Whether Egypt's political future includes Mubarak "is going to be up to the Egyptian people," Clinton said on CNN's "State of the Union."
---