Egypt protests: Did Jimmy Carter just throw Obama under the bus?
Former President Jimmy Carter said Sunday what many experts are thinking: Egyptian President Hosni Mubarak must go. But President Obama has shied away from making such a statement, even as the Egypt protests escalate, leading to some criticism.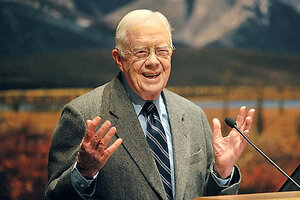 Ric Dugan/The Herald-Mail/AP
Middle East peacemaker Jimmy Carter came out and said Sunday what many experts in the region believe is now inevitable: Egyptian President Hosni Mubarak will have to go.
Commenting on the week's tumultuous events in Egypt from the Maranatha Baptist Church near his home in Plains, Ga., the former president who brokered the 1979 peace accord between Egypt and Israel gave a candid personal assessment of Egypt's embattled leader and said his "guess is Mubarak will have to go."
President Mubarak has "become more politically corrupt" in recent years and has "perpetuated himself in office," he told a Sunday school class of 300, according to the Columbus Ledger-Enquirer. Assessing the popular uprisings sweeping across the region, he said: "This is the most profound situation in the Middle East since I left office" more than 30 years ago.
Mr. Carter's remarks put him out ahead of the Obama administration, which has inched carefully forward as it has responded to the massive demonstrations engulfing the regime of a longtime US ally.
On Sunday, Secretary of State Hillary Rodham Clinton took the step of calling for an "orderly transition" in Egypt. That seemed to be a few degrees closer to abandoning Mubarak than President Obama's comments of Friday, which had focused on the urgency of meaningful reforms and the need for the regime to avoid repressive violence.
---