Egypt's Mubarak won't run again, but protesters look to speed his exit
President Mubarak, bowing to pressure at home and apparently from the US, said Tuesday he will not seek reelection in September. Dissatisfied, protesters look to Egypt's military to take their side.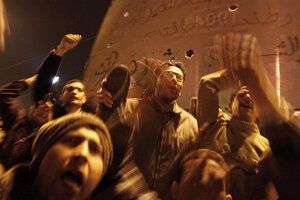 Dylan Martinez/Reuters
Egyptian President Hosni Mubarak announced his decision Tuesday not to seek reelection in September, a move meant as a compromise to the thousands of protesters demanding his departure from power.
But the response from Cairo's Tahrir Square, where thousands of demonstrators ignored a curfew to keep up pressure on the regime, was loud and clear: "No, not good enough. Mubarak must go now!"
All eyes will now shift to Friday, some experts in the region say, when the dissatisfied protesters are expected to launch another major march to demand that Egypt's military take their side and force Mr. Mubarak's departure.
"The military will be the deciding factor in this standoff between Mubarak and the protesters," says Julie Taylor, a specialist in Egypt at the Rand Corp., a think tank in Arlington, Va. "The young people in particular are going to demand that the Army take their side and insist that Mubarak step down."
---